"If you do not change direction, you may end up where you are heading" …
The problem we face is we have not done this before. We know that working from home has its own set of problems. Working in a atmosphere of "Social Isolation", away from our piers can eventually be as toxic as smoking or alcohol abuse. We are herd animals and work best in groups where ideas blossom and operational excellence is the goal.
How do we bring everyone back to work? Depending on the office environment we still need to practice social distancing, avoid large groups, have the means to keep our work area clean, wear face protection when working with others, and monitor individual health. The fact is each business is unique and each must layout a plan for restarting their business. This means creative space plans and people placement. Creating spaces that allow engagement without violating distance requirements. Not allowing people to face one another in their workstations. Creating signage for employees to follow that encourage safe distancing throughout the office. Floor signs to spell out expectations such as egress. Walk the office clockwise to maintain a controlled flow. Creating one-way isle ways to reduce face to face meetings. Cleaning stations that provide for hand, and environment cleaning periodically placed strategically around the office. Use a desk pad that can be replaced daily. Office posters and signage that encourages all of the above. More than anything develop a plan that suits your DNA as a business. It's not just an office, it's your culture. The unique attributes that make you different than the competition. With a little creativity you may be better than you were before.
As people are heading back to work manufacturers are coming up with many products that will help keep employees and clients safe. Here are a few examples. Please reach out to us if you are in need of a specific solution as your employees transtion back to the office.
Special-T's plexiglass workstation dividers mount to the top of a workstation wall to provide protection between coworkers, while still maintaing an open aesthetic across the office. They also have freestanding dividers that are great for providing extra safety in collaboration areas.
Loftwall's Hitch is a great solution to dividing benching and other types of workstations. The panels come in many different opaque and translucent options, and the frames come in multiple paint colors.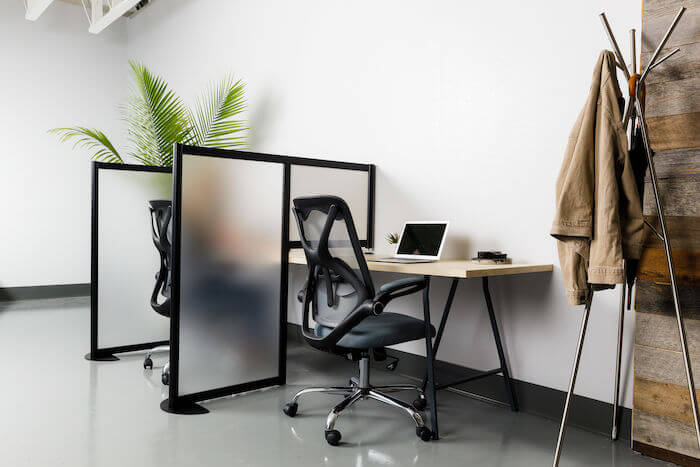 Via Seating's Copper Mesh Collection offers a wide range of chairs that have copper fibers woven into the mesh backing. The mesh comes in both the copper color shown below as well as a black.
Peter Pepper is offering a versatile collection of sanitizing stations. These can be simple solutions that offer a place to stop and hand sanitize, or a place to store other sanitary items like tissues and disposable masks.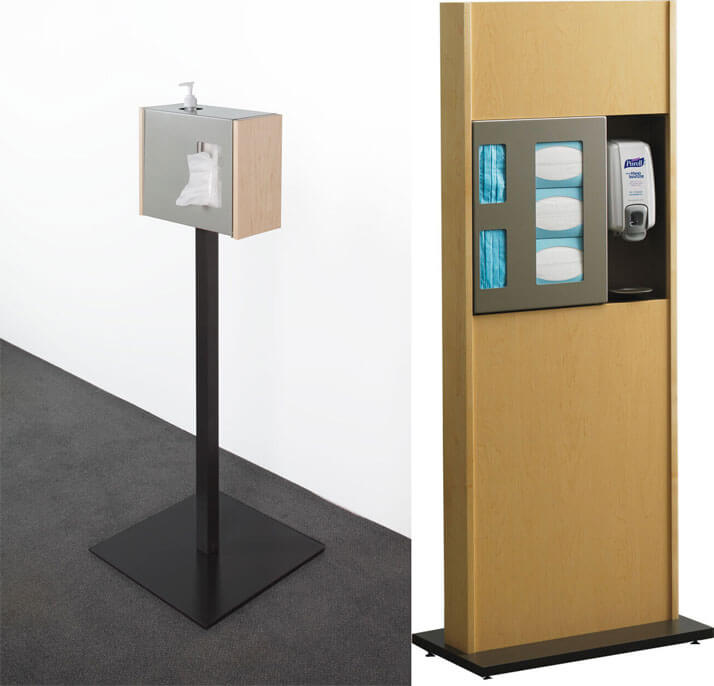 During this time of transition we hope we can be a resource to your business by helping you find the best solutions to keep your employees and clients well.